North Korea is moving forward with a comprehensive reform of its education system that puts science and technology at the center of its concerns. The plans were approved at a cabinet meeting over the weekend and follow a call from Kim Jong Un in September to improve the country's education level.
At the weekend meeting, Deputy Prime Minister Jon Kwang Ho told education officials to "prepare to upgrade the country's education level to the most developed level as soon as possible," KCNA reported on Monday October 21.[1]
The meeting follows a Rodong Sinmun editorial on October 7 that highlighted the vital role that science and technology play in strengthening North Korea's economy and underlined the importance of teachers in training new generations of engineers. The editorial noted that, "In various sectors of society, the demand for talent to lead the new era is increasing dramatically… Teachers in our country are working hard to play their part in achieving the party's goal of… transforming the country in one with strong talents.[2]
The editorial, which was set to mark "World Teachers' Day," comes as North Korea appears to be reforming its secondary and higher education systems for science and technology. The reform places more emphasis on identifying, capturing and promoting talent at a younger age. The new system created 11 new information technology high schools, one in each province, according to a Sept. 3 Rodong Sinmun report.[3] The newspaper also reported that 37 universities had created 85 new departments and corresponding courses on topics such as information security, robotics and engineering.
This new strategy goes beyond much of what we have seen in North Korea, where the science and technology strategy has focused on research and development. The roots of the change can be traced back to the April 2018 plenary session of the Party's Central Committee, where Kim Jong Un called on delegates to boost the country's scientific and technological development by improving the education system. North Korea has focused on science and technology for decades, and this has always been closely linked to the development of the national economy and, though often unreported, to the military as well. But this new push seems to be more focused on information technology.[4]
Following the plenary session of the Workers' Party of Korea in April 2018, Kim Jong Un used his 2019 New Year's speech to link the development of science and technology with economic development, but added emphasis on education: "It is necessary to improve the quality of training of talented personnel, who will assume the socio-economic development, by improving the contents and teaching methods in accordance with the global trend of development of educational and pedagogical requirements.
Last month, the National Teachers' Conference was held for the first time in five years and in a message to delegates, Kim noted North Korea's education system "lags far behind" the world and the party's plans. He called on educators to rectify this "as soon as possible" and declared that "We should set ourselves a high goal of developing new technologies and concentrate our efforts on finding basic technologies of great practical and economic importance, in order to ensure the driving force of economic growth."
The new secondary schools will function as a funnel, welcoming children who have shown an aptitude for science and technology and giving them a special education before sending them to university. We can see how it works through what North Korea has already done in math and computer programming. Children are exposed to mathematics and computers at an early age, and teachers seek out those with above-average skills. These children are sent to more specialized classes to encourage these skills. Towards the end of high school, they participate in a national programming competition and these top artists are offered places in top universities.
The system is working well. We know this because the best kids end up competing in the International Mathematics Olympiad and the International Collegiate Programming Competition (ICPC). At the 2019 event, the team from Kim Chaek University of Technology came in eighth place, ahead of many world-class universities including Oxford, Cambridge, Harvard and Stanford. It may take several years for the results of this new direction to bear fruit, but the strategy appears to be in place and operational.
In another part of his message to teachers, Kim Jong Un also called for greater cooperation between scientists and businesses, so that engineers can work on issues faced by factories and workplaces across the country. He nodded that "We should also take institutional measures so that scientific research institutes and enterprises, in close cooperation, can stimulate production and technological development and improve intellectual creativity."
On September 16, the Sogwang state website echoed this message, saying that such cooperation can also benefit scientists by providing them with a real-world experience and,
"In collaboration with scientific research institutes, each company must strongly engage in the research and development of new technologies, which is necessary to achieve the localization of raw materials, fuel and facilities, CNC (numerical control by computer) and unmanned production processes. "[5]
The new emphasis on secondary education comes a few years after the party began promoting science and technology education in the workplace. Many new workplaces now have a science and technology room where workers can learn new skills or improve the way they do things. The image below shows one of these parts at the Pyongyang Children's Food Factory. It appears to be a lesson in "clean-in-place," a method of cleaning the inside of pipes, tanks and other equipment without taking them apart. Many of these rooms are connected to the national intranet. So, in addition to in-person lectures, courses can be broadcast from Pyongyang universities.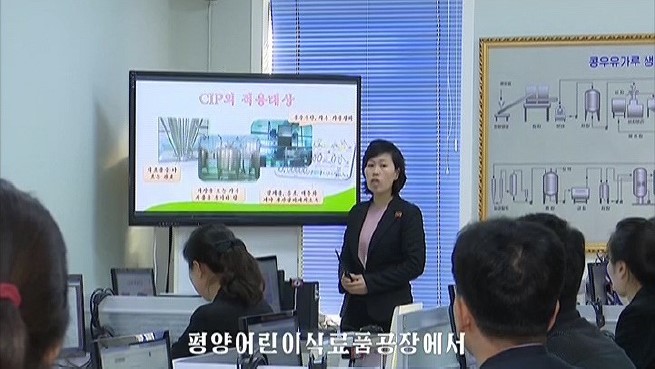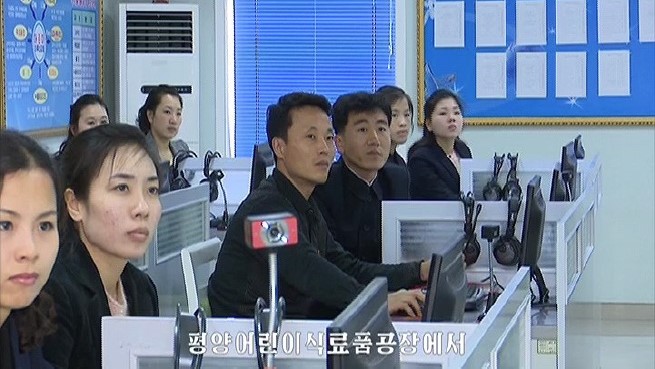 But perhaps the biggest indication of the importance the government places on science and technology can be seen in the changing face of Pyongyang. The Sci-Tech complex now dominates the Ssuk Islet and there are two separate quarters of apartments given to scientists for work on nuclear and space programs.
---
---